NEW MUSICAL WORKSHOP - Dancers Call
What is the musical about?
---
'F You Future Alice' is the story of high school social outcast Alice, who discovers she has the ability to travel back in time to key moments from her year, and alter the past. Desperate to salvage her relationship with her best friend Monica, Alice has to navigate the fragile world of social politics, parties and the messy transition into adulthood. At times funny and at times extremely moving, this is a story about friendship and change. Think Be More Chill meets Heathers meets Dear Evan Hansen.
---
Who is the creative team?
---
DIRECTOR: JORDAN MURPHY West End Director. Most recently, Jordan was Resident Director on West End's Mary Poppins and Assistant Director of West End's Matilda the Musical. Jordan also has countless credits as Director of 1st class touring productions, and the UK premiere of Dr Zhivago. MUSICAL DIRECTOR: YSHANI PERINPANAYAGAM Music Director for triple-Oliver-Award-Winning show Emilia (West End), Olivier-nominated Goat (Rambert Dance Company), King John and The Whip (Royal Shakespeare Company), As You Like It (National Theatre), Circa (Barbican) and Assistant MD for the Royal Opera House production of Wind in the Willows (West End). WRITERS: SOPHIE BOYCE & FRED FEENEY Sophie was part of the Writing Team for the BAFTA-Award-Winning tv series Skins, and is the Founder and Director of Spirit Young Performers Company. Fred is a professional composer, arranger and pianist working between New York and London. CHOREOGRAPHER: RHYS WILKINSON Rhys is an exciting up-and-coming choreographer, known for his dynamic and infectious enthusiasm. Graduate of the Urdang Academy, Rhys has most recently been producing dance concept videos, choreographing for West End Does, plus music videos for rising artist's and for Spirit YPC's Elite MT Teams.
---
Who can audition?
---
Open auditions are for dancers aged 15-21. Five dancers will be cast for this production, joining a small cast of world-class young performers. The first round of auditions are done via self-tape (deadline 30th June 2021). The recalls will be held in London on Saturday 3rd July.
---
What should I expect from the experience?
---
This is as close as you can get to the professional workshop experience. You will be part of the development of a brand new musical. You will spend two weeks working with a professional creative team. You'll be expected to be flexible and adaptable, as the songs will be developing and changing throughout the process. You'll get a first-hand view of how musicals are made, in their very first stages. There will be just 9 dancers in the production, responsible for bringing the big dance numbers to life for the very first time. At the end of the two weeks there will be a workshop performance, before an audience of industry professionals and producers. Dancers will also be able to invite friends/family to watch as well. This will be a presentation of new work, performed in a stripped-back theatre setting with live band.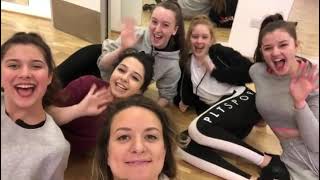 ---
What does it cost?
---
We're proud to be offering this opportunity for just £560. This covers two weeks of workshop with a professional creative team, plus the performance before industry pros. There are no hidden or additional costs. Scholarships are available to a limited number of perfomers from low income backgrounds. We can also accomodate instalment payment plans for any performer who needs this. COVID/REFUND POLICY: Full refunds will be provided if the workshop can not go ahead due to a change in covid regulations.
---
Where / when does the workshop take place?
---
The cast will rehearse between Monday 16th August - Friday 27th August. Approximately 10am-5pm per day, though hours could occassionally vary depending on rehearsal requirements. The workshop performance will take place on Saturday 28th August. All takes place in London, UK. Rehearsals from 16th-21st August: London EC1V (close to Angel Tube) Rehearsals from 22nd-27th August: London SE17 (close to Elephant & Castle Tube) Performance on 28th August: Arts Depot Theatre (North Finchley, London)
---
What is the covid / refund policy?
---
Full refunds will be provided in the event that the workshop can't go ahead due to a change in covid regulations.
---
What financial support is on offer?
---
Scholarships are available to a limited number of perfomers from low income backgrounds. We can also accommodate instalment payment plans for any performer who needs this.
---
I'm ready! How do I audition!
---
The first round of auditions is via self-tape. Deadline to submit your tape is 30th June 2021. On your tape please introduce yourself (name, age, a bit about you) and include a video of you dancing, either solo or where you can be clearly seen within a group, ideally in jazz or commercial style. We recommend using WeTransfer or YouTube to upload your video. You will be asked to paste the link in our submission form. READY TO SUBMIT? Click here.
---
---